NEWEST Air Compressor + Car JUMP Start Power Bank Battery Charger
₦30,000
50 in stock
Description
Model:
Item 1: Car_Jumper_Power_Bank_69800
Item 2: Car_Jumper_Power_Bank_69800_Air_Compressor

Buy 1 FREE 2 pcs CS Cable Organizer, Limited stock.. hurry up.
---
Item 1: Car_Jumper_Power_Bank 69800
Original Multifunction All in 1 Car Jumper Starter Power Bank 69800 with 5V 9V 12V 16V 19V Output for Gasoline car, mobile phone & Laptop Charger
Upgraded 4x 5V USB Port for charging (Latest)
Upgraded 4x Emergency LED Lighting (Latest)
Saftey Hammer
Seat Belt Cutting Knife
Durable Carry Bag (Advantages is Easy not broken like tool box & smaller easy to carry)
Malaysia 3 Pin Plug
Capacity Around 16800mAh

Features:
High Real Capacity High power polymer battery
Support emergency Car Jump Start
Support all powerbank function for general cellular phones charging
Support all others 5V, 9V, 12V, 19V device charging like laptop / camera and etc..
With Powerful Flashlight / Emergency Rescue Light
Over-Current Protects
Malaysia 3 Pin Plug Given…
Free Upgrade Malaysia 3 Pin Plug.. All Customer will get the Malaysia 3 Pin plug..
Descriptions:

High capacity 16800mAh with high power polymer battery is adopted for fast charging.
It can support an emergency jump start and entirely replace the included battery for a car startup.
It also supports general cellular phones/laptops charging and completely replaces products similar to mobile power banks.
With true powerful flashlight , multi-function switch-over, emergency rescue, signaling , lighting, defense and other powerful features –
it is the ideal choice for night shift workers, overtime workers and many others.
Real-time recharging reminders, automatic shutdown under no-load condition.
Over-current protects the device from overload, making it more convenient, safer and more energy-efficient.

Features:

High capacity 16800mAh, multifunction power battery charger .High efficiency of power conversion.
Support emergency starting of 12V car, compatible with charging and discharging of branded cell phones, PSP, MP3/MP4, laptop, PDA, notebooks, car refrigerator and so on
Power off automatically when there is no load or charging is complete
3- 4 hours or more full charging of iPhone/Android or any mobile phone
Approx 20 times starting a vehicle when fully charged
Power charge of this device will remain 1~2 months without recharging
Battery can be charged at home using a wall charger or inside the vehicle using the cigarette lighter adapter.
Usage: outdoor, travel, camping, exploration and expedition, vehicles
Multifunction lighting modes: Strong light, flash, SOS, warning light
Multiple safety protection design.

Specifications:

LED Light X 4pcs
12V / 16V / 19V voltage output indicator lights
Output: 12V / 16V / 19V — 2A / 3A / 3.5A
USB 5V / 2A output (4 USB Port)
Capacity: 16800mAh
Input: 15V / 1A charge input
Size: 170mmx84mmx37mm
Charging time: 2~4 hours

Instructions for use:

1. Select the appropriate voltage and connector for the electronic device to charge / power supply
2. Press the switch to start charging when your device connected with the power bank. If you unplug thecable, auto-sleep will start in one minute.
3. Five LED lights will flash circularly during the charging and all lights will keep bright when your device is full-charged.
4. During charging for your device, LED lights indicate the balance power of the built-in battery. Four lights indicate 80% balance, three lights indicate 60% balance, two lights indicate 40% balance and one light indicates 20% balance.
The built-in battery is empty when all LED lights start to flash.
5. Press the switch five seconds to start If you want to use LED for illumination and select the status (light, strobe, SOS, close) by pressing the switch to transform.
6. Store the product in a cool and dry place and away direct sunlight.

Cautions:

To avoid from accidents, make sure note the following cautions:
1. Take off the main unit within 30 seconds after starting the car.
2. Don't clip the two terminals at the same end on the battery.
3. Don't Disassemble the unit.

Package includes:

1 x Car Jumper Power bank 69800
1 x Notebook adapter cable
8 x Notebook connector
4 in 1 Cellphone connector
1 x Adapter (Malaysia Plug) Input : 100V-240V ; 50/60Hz
1 x Car charger
1 x Jumper cable with battery clamps
1 x Durable Carrying bag (Advantages is Not broken, Smaller Easy to Carry)
1 x User manual
---
Item 2: Car_Jumper_Power_Bank_69800_Air Compressor
Latest Air Compressor Version, Original Multifunction Car Jumper Starter Power Bank 69800mAh with 5V 9V 12V 16V 19V Output for Gasoline car, mobile phone & Laptop Charger + 2X USB
Air Compressor Version
Upgraded 4x 5V USB Port for charging (Latest)
Upgraded 4x Emergency LED Lighting (Latest)
Saftey Hammer
Seat Belt Cutting Knife
Tool Box Packaging

Malaysia 3 Pin Plug
Real Capacity Around 16800mAh
All spec same with above Item 1 Except this new version come with additional air compressor and tool box packaging.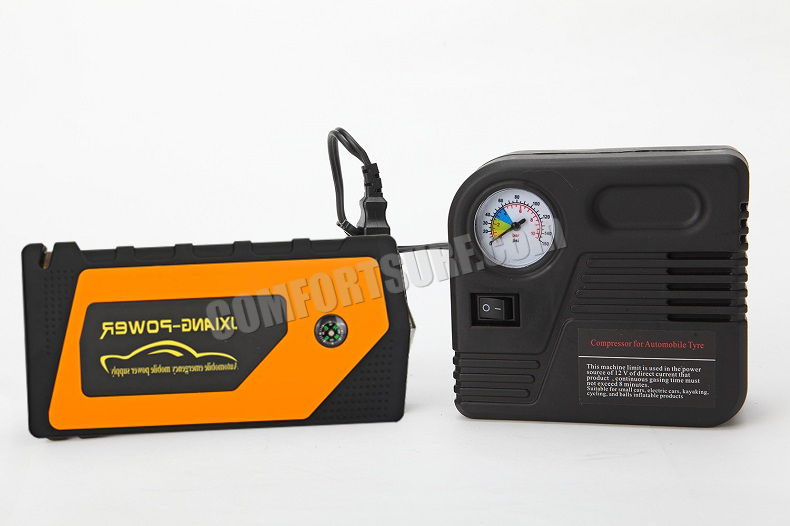 This Car Jumper starter power bank solved all your problems below..
**For Sabah Sarawak, Package With Compressor Will Ship By Air Parcel.
Package includes:

1 x Car Jumper Power bank 69800
1 x Air Compressor
1 x Notebook adapter cable
8 x Notebook connector
4 in 1 Cellphone connector
1 x Adapter (Malaysia Plug) Input : 100V-240V ; 50/60Hz
1 x Car charger
1 x Jumper cable with battery clamps
1 x Tool Box Packaging
1 x User manual
---

Item 1: RM132 + GST 6%
Item 2: RM167 + GST 6%